Kirkistown September 500MC Meeting, September 23 2006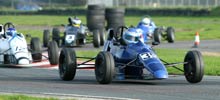 In pre-90 FF1600, Rory Farrell timed it beautifully to pip Jonathan McGall to the line after a race long battle, getting alongside on the back straight and switching to the inside on the run to the line. In the main race, Morgan Dempsey looked as comfortable as one can be at the head of the usual train of FF1600 challengers as he guided his Swift SC92 to an impressive victory. Kris Loane made a disastrous start from pole but showed again why he is definitely one to watch for the future as he battled his way back up to an eventual second at the flag. Third was enough for Noel Dunne to clinch yet another title and cap what has been another great year for the VTL backed driver. Michael Edgar and Rory Farrell shadowed Dunne across the line.

Jim O'Reilly took yet another pair of wins in his 911 Turbo despite being led away by Robin Titterington on both occasions. Brian O'Gorman completed the podium in both races with some good battles going down the grid of this fast growing class.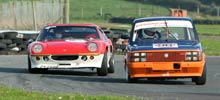 Stephen Doyle took the scratch honours in the HRCA Historics driving his father's beautiful Lotus 23B, with poleman Jackie Cochrane's Tiger posting a rare DNF due to a puncture. David Kelly chased hard in his Lotus Elan but unfortunately got out of shape at Debtors and rolled a number of times with the red flags coming out as a result. David was taken to hospital and found to have just a number of cuts and bruises and will hopefully be back in the Elan in 2007. This left Pamela Cochrane in second in her MBGBT V8 with Ed Cassidy's Tiger coming home third.


Kirkistown will introduce a new Libre Saloon class in 2007 and as a taster of what's to come, a few saloons lined up to do battle. None of them, however, had planned for the late entry of Pamela Cochrane, whose BGTV8 led by a significant margin at the end of the first lap, despite starting at the back!! The Trackskills Vectra Challenge car of Keith Wray gave chase but retired mid race with gear selection difficulties leaving Punto 1400 regulars Gary Miller and Willie Pigeon embroiled in a heated battle for second. This was settled when Pigeon ran wide at the hairpin after an over-optimistic lunge for the place went wrong! Next up was Dan Rooney, the Uno driver lapping almost on lap record pace in his newly acquired ex-Paul Flanagan machine.

In Formula Vee, Brian Kelly started from pole, with new champion Ray Moore alongside. Kelly led away but Moore, predictably, challenged immediately and soon the yellow Leastone was in front. In their wake, a huge battle between Robert Casey and Trevor Delaney ended when they tangled at Colonial, with Delaney spinning and Casey being launched over him, with the incident bringing out the red flags for the second time of the day. With over two thirds of the race run, it was declared as a result, with Moore taking the honours, from Delaney and Kelly.


Leo Nulty
087-6693946
leo.nulty@fiat.com