Mondello Mutterings 7-5-6
It was double headers all round at Mondello Park last Sunday with all classes getting two races over the course of the day. The weather was fantastic and the racing was almost as good with all the classes putting on a great show for the cameras. (On The Limit Sports covered the Strykers, Porsches and Rovers)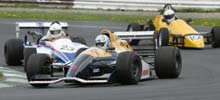 Dan Daly qualified on pole for the first of the Formula Libre Ireland races with, as ever, Ken Fildes alongside. The pair swapped places on numerous occasions but Daly's Canon-Williams lookalike F3000 was ahead when it mattered to take yet another win. Unfortunately Bob Copeland's similar Reynard 90D had a mechanical problem in qualifying and didn't it make to the grid. This left Michael Roche's Mygale to take the final podium spot from Alan Kessie and former Stryker driver Keith Colmey in his newly acquired Ralt F3 machine. In race two, Copeland made it out, but after a long delay on the grid, had to pull out when his car overheated. Daly's car also had mechanical woes and pulled off the grid leaving Fildes alone on the front row. He hadn't budgeted for Alan Kessie, however, who rocketed off the third row to lead into Honda Corner. His glory lasted for two laps, before Fildes re-asserted himself at the front and went on to a dominant victory. Most interest in this one centred on young Kevin O'Hara, whose efforts at the wheel of his 100bhp Formula Vauxhall has the crowd on their toes. He first despatched the far more powerful Formula Ireland of Mark Watkins and then closed in on the highly modified Stryker of Seamus Ryan to challenge for the final podium place. Ultimately, he didn't quiet manage it but definitely marked himself out as one to watch for the future.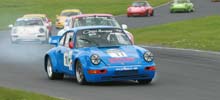 Unsurprisingly, Jim O'Reilly dominated both Porsche races from pole, Richard O'Mahony and Alan Kessie his closest challengers. In race two, Robin Titterington pipped Kessie to third. FF1600's healthy growth continues in Ireland and Sunday was no exception with 23 cars taking to the grid. Noel Dunne led for the duration but had to withstand huge pressure from Kris Loane et al for most of it. In race two, Dunne got the head down and made his break early. Loane had a quick spin at turn three that dropped him down the order leaving Paul Dagg in second. Dagg began to reel in Dunne as John Ferguson (driving the works Ray for the weekend) held back a huge train of cars including the impressive Rory Farrell in his elderly Crossle and the recovering Loane. On the last lap, with Dagg looming ever close, Dunne had a spin at turn three and handed the win to a delighted Dagg. Ferguson came home thirs, from Loane and Farrell. Young Robert Cregan had run well in his CDR Swift, to finish right with this battle and take sixth overall.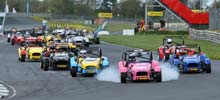 Tristan Quinn qualified his newly repainted F1 Renault lookalike on pole position for the resurgent Stryker class with the impressive Daniel McCarthy alongside. Fellow Wesley College Leaving Cert student Mark Willis was fourth on the grid, having changed his 1.6 engine to a full-house 1800 Zetec over the winter. As soon as the lights changed to green, the action was thick and heavy with a three car shunt at turn two causing an early stoppage. Quinn managed to hold back the baying pack to win race one, with most interest centring on Sonya Fildes' tigering drive, bringing her CPL car home in third. With the grid reversed for the second race, it was wide open but Alan Watkins was first of the quick boys to fight his way through, holding back Andrew Dalton until he spun out (with a little help) at turn three. This left Dalton in the lead but by this stage, Quinn had arrived at the sharp end and as he challenged for the lead, contact was made and Dalton had a scary shunt on the main straight, elimating him from the equation. As if this was not enough action,, Quinn slowed after the chequered flag to make sure Dalton was ok, and was collected by McCarthy, who was still fighting for position. After the officials had watched replays fo the last two laps, they excluded a number of drivers with the result that Alan Watkins was awarded the win from Sonya Fildes and Damian Roddy.
Paul Sammin qualified his LOH Motorsport Sheane on pole for the Vee race with Ray Moore alongside and the similar cregornews.com back car of Ken Elliot alongside. After an early stoppage, Moore got the jump from the outside at the restart and had to defend almost immediately as Sammin fought back. Elliot soon joined the duo but found himself on the receiving end of some very aggressive driving from Sammin, first having to take to the grass in front of the grandstand and finally being clouted off the circuit having just taken the place round the outside of turn one. After Elliot's demise, Keith Hogg set fastest lap and gradually hauled in the leaders, finishing third, right on their tails. In race two, it was the same story, with Moore getting away first but having to fight back the attentions of Sammin, who got alongside every lap on the main straight but never managed to make it stick. Moore hung on for the double from Sammin and Mark Horan, who drove well in the ex-Newsome championship winning car.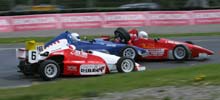 Formula Sheane has gone from strength to strength this year and a full grid turned out on Sunday. Enda O'Connor took the honours but had to fight off some new and very impressive opposition first. David Parks had raised many eyebrows by qualifying ahead of O'Connor on the second row. Gary Newsome eventually came home second with Trevor Duffy and Brian Hearty right there too. In the second, reverse grid race, Shane Ringwood got away early, having displaced early leader Jimmy Lyons but soon Gary Newsome had fought through from the back. Showing the talent he used to win the Vee series last year, he reeled in Ringwood, dispatched him with apparent ease and cruised home to a popular victory
Briefly...................
After a text pole by the commentary team, Porsche Brian Corbett was a runaway winner of The Driver Of The Day competition. Despite coming home eleventh overall, the texts were still coming in well into the night................

John Ferguson was driving the works Ray FF1600 at the weekend, in place of his regular Van Diemen RF92. "We blew up three engines in the Van Diemen", he said "so I rented the car and engine for the weekend. I think I might buy it now!"

Paul Dagg, having recently become worried about the untimate pace of his Reynard FF89, purchased a Van Diemen RF91 to take the battle to the newer machines. After his impressive win at the weekend, he may have to reconsider...............

When asked by commentator Leo Nulty what all the steam and smoke was pouring from his F3000 car was, Bob Copeland replied "I had my lunch with me and the sandwiches knocked the flask over and broke it!!"

Kevin O'Hara, who starred in the second Libre race, may well be the youngest ever driver to race a single seater car at Mondello, having turned 16 just two weeks earlier. Younger brother of Asian F3 team owner John, he has ordered a new Leastone Formula 5, and if Sunday's performance is anything to go by, should be a title favourite.
Leo Nulty
087-6693946
leo.nulty@fiat.com