Kirkistown 500MC Races 29-4-6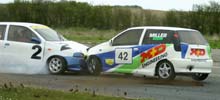 The Fiat Unos and Puntos made their second trip of the year to Kirkistown on Saturday April 29th. The Unos boasted their biggest grid for the year with 17 cars taking to the grid but ironicially, this co-incided with the smallest Punto grid ever with just four of the 1400cc machines making the trip. Paul Flanagan, headed the field away from pole and was never challenged on his way to a dominant victory. Such was his pace that he eclipsed Bob Copeland's 6 year old lap record by 2 tenths of a second. Series leader Alistair took second, but never challenged Flanagan. In their wake, a superb battle raged for third. Owen Lawlor was the early occupant of this position, having made a superb start from sixth on the grid. He first came under pressure from Mark Monks but the both were displaced by the charging Hayley Rowley, who had made a disastrous start from the second row. As she pulled clear, the battle raged for fourth between Monks and Lawlor. As they rounded Debtors side by side, the rear end of Lawlor's car let go and contact was made. As Lawlor's car spun, it dug in and was launched into a horrendous series of rolls. Happily, the roll cage did its job and Owen was able to step out and walk away. This left Derek Hogan and Mark O'Connor to fight out 4th place.
In the Punto class, Gary Miller made a fantastic start to lead away from the second row of the grid but rotated in controversial circumstances and was collected by Willie O'Brien in his newly purchased ex-Jenny Ryan championship winning machine. This left just series leader Jamie Masterson and Ian Conroy but they had a great scrap, with the lead swapping on numerous occasions. Masterson was ahead when it mattered, to take his second of the year and consolidate the series lead as he bids to take Uno and Punto titles back to back.
In the NI pre-90 race, Declan Quigley, now running with Morgan Dempsey, took his first pole with circuit specialist Rory Farrell alongside in his elderly Crossle. When the lights changed, Quigley bogged down and dropped to third behind Gary Thompson as Farrell led away. Having re-asserted himself in second, the Setanta F1 commentator set about closing the gap to the leader. Having set fastest lap, he made his move at Colonial mid-race. It proved to be a trifle optimistic, however, and the Reynard rotated off the circuit. Declan managed to rejoin without too much delay but Farrell had made good his escape and took yet another Kirkistown win. In the Open FF1600 race, a huge battle raged between Kris Loane, Noel Dunne and Morgan Dempsey. It was classic Kirkistown stuff as the trio swapped the lead time and time again, even rounding Debtors three abreast on more than one occasion. Dunne used his experience well and timed his run to perfection to cross the line just ahead of Dempsey and Loane with Noel Robinson a lonely fourth.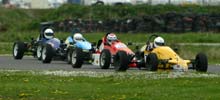 In the poorly supported NI Formula Vee race, Mark Horan took the honours from Dan Mulligan and William Callaghan but the interest centred on Ray Moore's attempt to break Ken Elliot's lap record in his Leastone. Having qualifying on pole by some considerable margin, Moore was sidelined by an electrical problem which (ironically) Elliot managed to repair in the pitlane and he rejoined. Despite running last, Moore was flying and ended up less than a tenth shy of Elliot's time with a 1:06.35!!
Briefly...................
Declan Quigley was delighted to have a team running his Reynard FF89 for the first time. "I don't know what to do with myself!", he quipped in the paddock, as Dempsey's mechanics swarmed around his ex-Ray Moore machine.
The Dunlop Uno grid swelled again at Kirkistown with Alan Quinn being the latest recruit. "We have 17 cars out today", said class co-ordinator Louise Lawlor, "but we hope to see 20 cars out by mid season!"
Plum Tyndall was in the Kirkistown paddock promoting his Golden Helmet FF1600 meeting which will take place at the circuit in August. The winner will receive the Donnelly Trophy, named after Martin Donnelly Snr, a great supporter of the class. One of the ideas mooted is the running of a one off FF1600 Masters race at the meeting, with FF1600 champions from the 70s and 80s being invited to compete!!!!
Unfortunately, the meeting ended on a low, with 250cc karter Mervyn Campell being thrown out of his machine at the ultra fast Debtors corner. Medics at the scene managed to revive him but he was pronounced dead on arrival at hospital. Our sympathies go to his wife and family.
Leo Nulty
087-6693946
leo.nulty@fiat.com